October is here!
Get ready for Halloween with these delicious, easy to make recipes.
Boonanas
Spooky banana that requires no baking.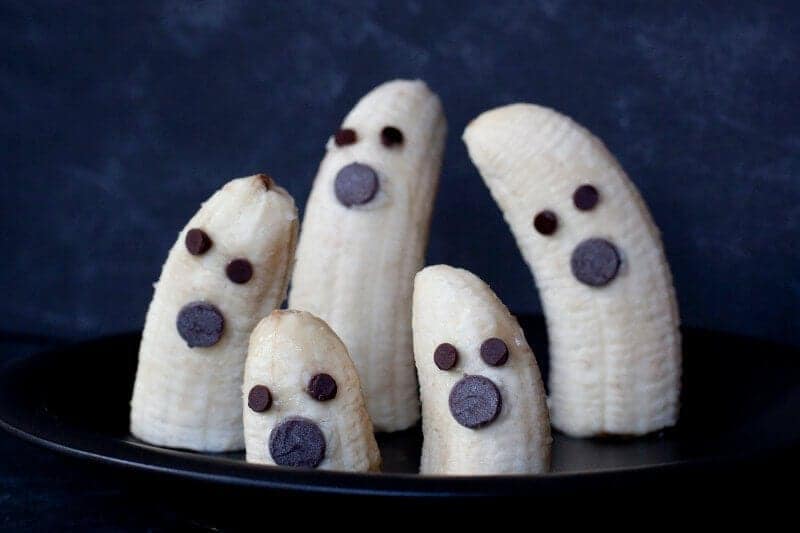 What You'll Need
Bananas
Mini Chocolate Chips
Chocolate Chips
Instructions
Peel and cut bananas in half.
Have your children press two mini chocolate chips into the banana for eyes.
Take the larger chocolate chip for the mouth.
Place on a plate with the bananas standing up.
Enjoy!
Witch's Broomstick
A cute snack filled with calcium!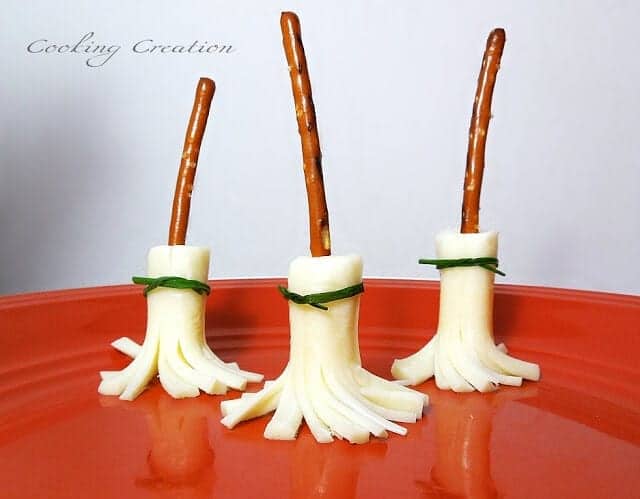 What You'll Need
Pretzel Sticks
Chives
String Cheese Sticks
Instructions
Slice the cheese stick into thirds.
Use a knife or scissors to cut a fringe pattern on the lower half of cheese.
Insert the pretzel stick into the top of the cheese stick creating a broomstick, wrap chive around the top portion of string cheese.
Poisonous Apples
For a healthier alternative, use dark chocolate.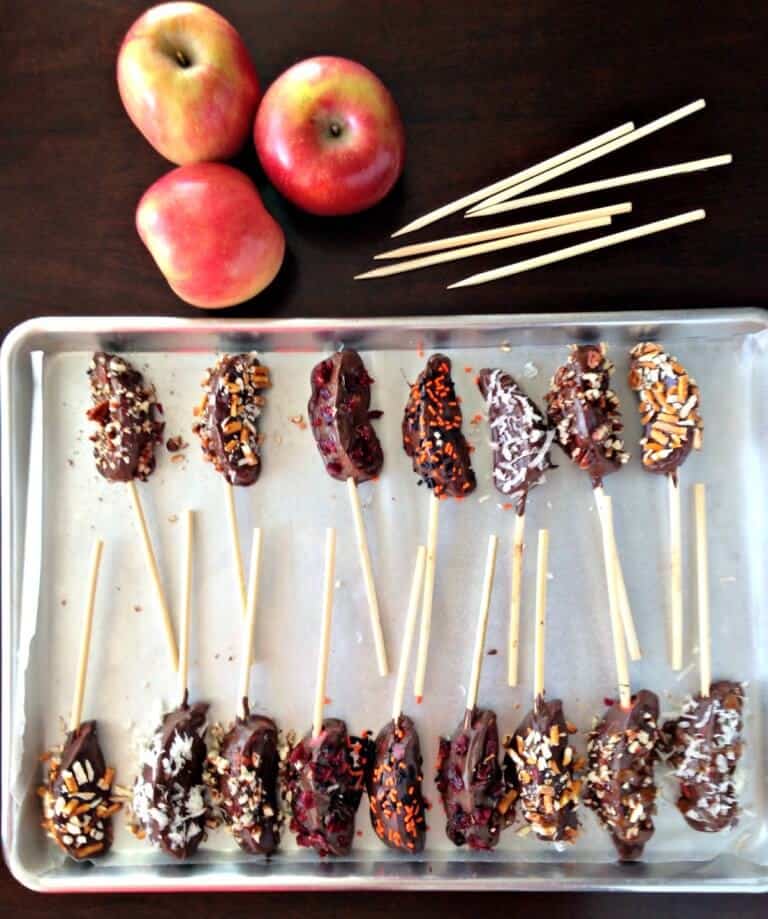 What You'll Need
4 Apples
Lollipop Sticks
1 Cup Dark Chocolate Baking Discs or Chips
Parchment Paper
Instructions
Remove the apple stems, and cut into smaller slices.
Insert the lollipop sticks.
Melt the dark chocolate in double boiler and slowly rotate each apple in chocolate until completely covered.
Line on parchment paper on a tray and let cool in the fridge.
Spooky Sweet Potato Slices
Yummy and easy to make!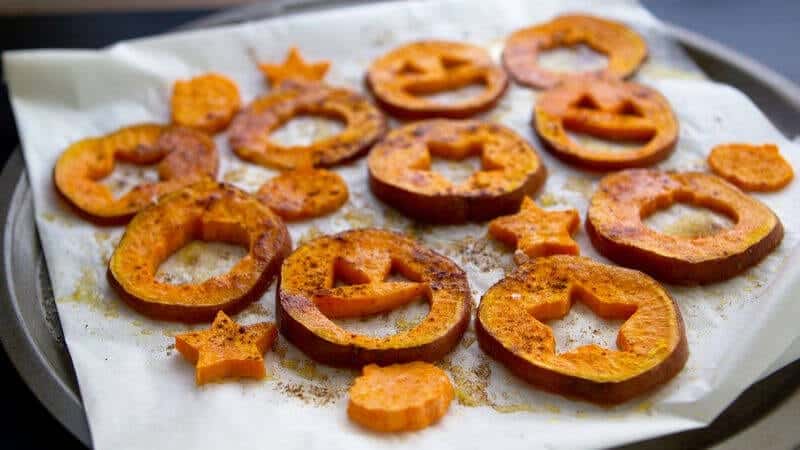 What You'll Need
2 Sweet Potatoes
½ tsp Pumpkin Pie Spice
½ tbsp Salt
1 tbsp Sugar
3tbsp Olive Oil
Instructions
Preheat oven to 400°F.
Clean and slice sweet potatoes into ¼ rounds.
Using mini cookie cutters, cut jack-o-lantern faces into the center of the sweet potato slices. You can also use a small knife to cut shapes.
Place the sweet potatoes on a parchment-lined baking sheet.
Drizzle with olive oil, sprinkle with pumpkin pie spice, sugar and salt.
Bake in the oven for 18-22 minutes.
Orange Jack-O-Lantern Fruit Cup
Try with a variety of different fruits.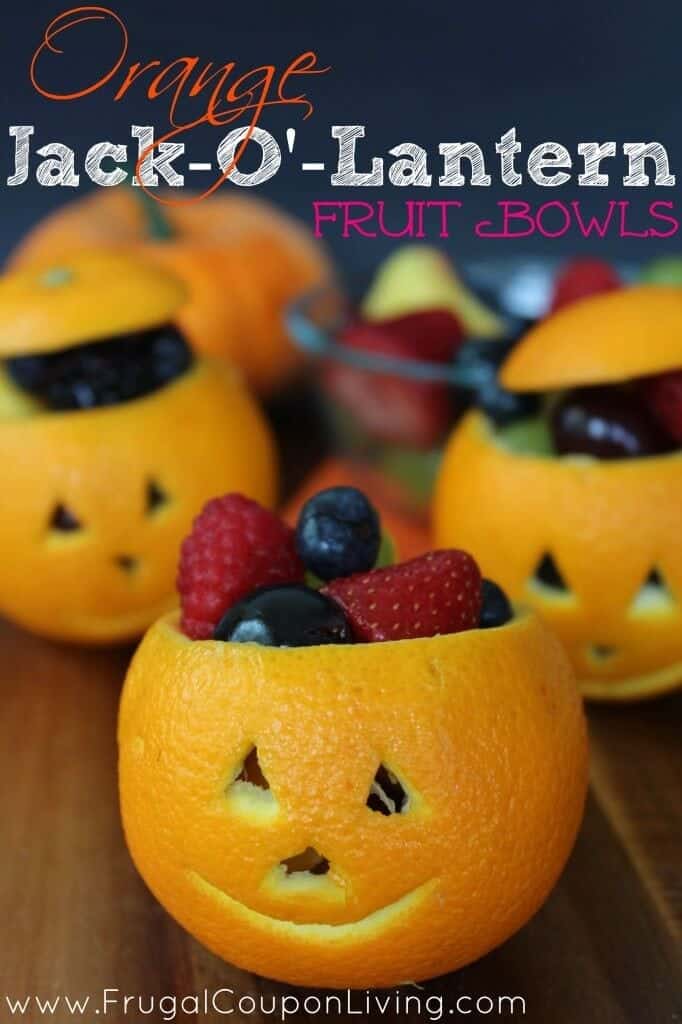 What You'll Need
3 Navel Oranges
1 Cup Mixed Fruit
Instructions
Slice off the top of oranges.
Using a spoon, scoop out pulp of oranges.
Cut out faces on each orange to resemble Jack-O-Lantern.
Fill each orange with mixed fruit.