Introducing your child to oral health care or even the dentist can be a daunting task. It's common for children to experience anxiety with their dental visits or at home dental care. There are many ways you can help ease your child's fear of the dentist and encourage them to commit to good dental hygiene.
One great way to help your child is with reading. There are many books available to help introduce your child to proper oral health care and even help them become familiar with the dentist and what to expect at their appointments.
We have compiled a list of our favorite dental health books and encourage you to share with your children!
Books for Oral Health Care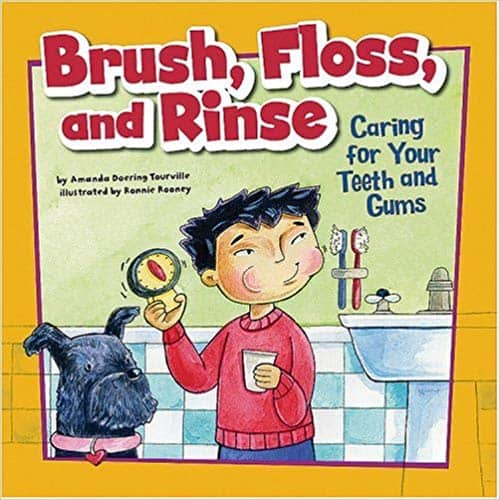 Brush, Floss and Rinse: Caring for Your Teeth and Gums
Amanda Doering Tourville
This book goes over the importance of not only brushing and flossing but creating good habits to maintain good oral health.
Ready, Set, Brush
Sesame Street, Che Rudko
Ready, Set, Brush is as informative as it is fun! In collaboration with the ADA this popup book illustrates the importance of good oral health and encourages kids to participate in a very fun way!

Brush, Brush, Brush!
Alicia Padron
This book features rhythmic, interactive text, meant to be sung. While not as informative as some of the other options out there, this book can help encourage smaller kiddos to see brushing as a fun activity.
Brush Your Teeth Please
Leslie McGuire
This fun and interactive pop-up book helps to illustrate the proper brushing technique. Whether, a reminder to brush your teeth up and down like a bear, don't forget the back teeth like the hippo or to floss like a shark, this delightful book will help encourage and teach your child proper dental hygiene.
Books for Visiting the Dentist
Going to the Dentist
Anne Civardi
This book illustrates the visit of siblings, Jake and Jessie Judd. It walks the reader through the entire visit, from the dentist checking and cleaning their teeth to filling Jake's first cavity. It also highlights the importance of taking care of their teeth by eating healthy foods and proper brushing technique.
Just Going to the Dentist
Mercer Mayer
If you're a fan of Mercer Mayer's classic funny and heartwarming style, this is a great read. This book walks the reader through every step of the visit, from X-rays to having a cavity filled and even down to the treat at the end. This book does mention a shot before the treatment as well as the drilling of the tooth, and although realistic, your child's age and anxiety should be considered before reading this one.
Dora Goes to the Dentist
Robert Roper
This book for Dora lovers is a two in one read with one side featuring Dora's visit to the dentist and the flip side being a visit to the pediatrician.
General Dental Information
All About Teeth
Mari Schuh
Mari Schuh is an author for Pebble Plus and has a variety of books about oral health and general teeth information. All About Teeth illustrates the different types of teeth, what they look like, what they do, and most importantly how to take care of them.
Loose Tooth
Mari Schuh
Loose Tooth walks a child through what it feels like to lose a tooth, what to expect and how permanent teeth will come in.
The Tooth Book
Dr. Seuss
This a fun read in the traditional Dr. Seuss style. This one will make your child laugh out loud as they learn about teeth and what they do!
Happy reading!