Healthy nutrition for kids is essential for oral health! Nutrition has a direct impact on your kid's teeth and gums. Poor nutrition may lead to tooth decay, cavities, and gum disease. Also, researchers have linked oral diseases to diabetes, heart disease, stroke, and premature/low-weight births. Here are some helpful resources:
MyPlate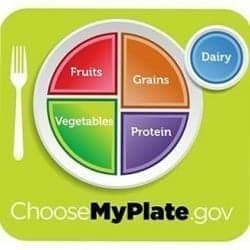 MyPlate illustrates the five food groups that form the building blocks for a healthy diet, using a familiar image—a place setting for a meal. This graphic from the USDA provides a visual for each food group and how it might look on a placemat. There are many great tips and resources on the USDA website.
ChopChop
Cook together in the kitchen and talk about the food groups as you try new recipes together. Check out ChopChop an online magazine with lots of great kid-friendly recipes.
Practice Smart Food Choices
It is important to teach kids healthy eating habits early and throughout their life. Encourage them as they practice making smart food choices, including healthy snacks. Healthy eating will have a positive impact on your child's oral health. And don't forget to brush often!