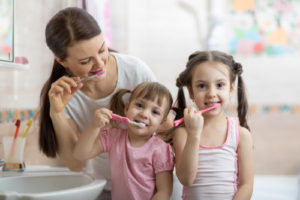 You know dental care for your little one is necessary, but you can't stand to see him so upset and scared whenever you visit the dentist. From the bright lights and reclined chair to the gloved hands and masked faces, it's easy to understand how some of our smallest patients can be afraid. But choosing the best pediatric dentist in Prairie Village for your child can help reduce that fear and can even make dental visits fun. So can these tried-and-true tips. 
Start Early. The earlier you get your child to the dentist's office, the better. It's recommended that a child experience their first dental visit around their first birthday. Not only does this expose your child to the dental office and give both you and him a chance to establish trust and comfort with this new experience, but it also allows you to make sure you've chosen the right dental office early on. 
Make it Fun.

Prior to the first visit, it may be a good idea to play pretend and simulate a dental visit in the comfort and familiarity of your home. Take turns being the patient and the dentist to give your child an idea of what to expect. Count teeth, look at them in a mirror, brush the grins on his favorite toys. If you're really up for some fun, a little bit of dress-up can help too. 

Avoid Scary Words.

As an adult, you may have your own fear of the dentist or perhaps have had a bad experience. Don't talk about these with your child. In addition, avoid using words like "hurt," "shot," "pain." Instead, get your child excited to visit and allow your

pediatric dentist in Prairie Village

to use their very specific training and special language. 

Communicate With Your Dentist. If you know your child has a dental fear and visits to the dentist are a bit stressful, tell us! Dental teams are trained to recognize dental fear, and we have ways to help. It's best to be honest from the beginning so your team can start to ease anxiety right away. 
Visit Regularly.

Like a lot of things, visits to the dentist get easier with repetition, so make sure to keep recommended appointments. Regular visits not only help ease any fear, they're also crucial for catching potential problems early and treating them fast. 
If it's time to help your child overcome his fear of the dentist, call your pediatric dentist in Prairie Village. We're committed to taking care of the most special smiles in a relaxing and gentle environment while keeping each and every patient comfortable and anxiety levels low. 
LeBlanc & Associates Dentistry for Children has pediatric dentists in Overland Park, Prairie Village, Olathe, and Kansas City. We're always accepting new patients. Give us a call today!